What Makes ProDry Floor Care Cincinnati's Best Carpet Cleaner?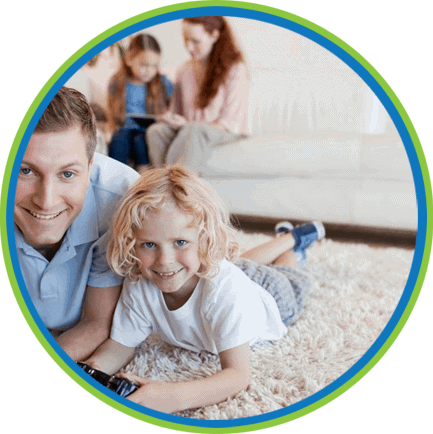 Look, we know when you are trying to find someone to clean your carpets, you're looking for more than just a basic cleaning than something that just removes the top layer of dirt.
At ProDry Floor Care, we know you want a company that you can trust and service that can get out the deep down dirt and grime embedded in your carpets.  Not only that, but you also want the cleaning to be a safe and healthy process that will also provide a truly clean and healthy home.
We make it our mission to not only take care of the toughest of cleanings, but to insure that we are providing a healthy, clean living environment and the best customer service in the area.
Here are just a few reasons to choose ProDry Floor Care over our competitors:
Reputation:  Look, we don't want you to take our word on why we're the best carpet cleaning company in the area.  We want you to take our clients word for it!  Check out our reviews on sites like Facebook, Google, Angie's List, NextDoor and Thumbtack, you fill find over 500 reviews that can attest to the type of service we will provide you.  We appreciate our customers and we hope that you will choose ProDry Floor Care to serve your family as well!
Training:  We ensure our employees are trained and up-to-date on all of our cleaning processes.  When available we also send our technicians to gain certification in the different aspects of cleaning within the Carpet Cleaning Industry.
Systems:  ProDry Floor Care uses a Low Moisture Cleaning system that utilized the chemistry of encapsulating cleaning agents to provide our customers with a cleaning that not only leaves their floors looking great, but is safe and healthy for their family.
If your carpet has seen better days, call us today to schedule a deep carpet cleaning. We have the tools and experience necessary to get your carpet back to looking its best, feeling great under your bare feet.
We offer a variety of packages that include different services so you are sure to get exactly what you are looking for with your cleaning.
Our low-moisture cleaning technique is sure to leave your carpet looking brand new. It will also be completely dry after one or two hours so you can get back to your regular day with a carper that looks fantastic.
Here are four tips to be ready for your carpet cleaning session with us.
Be Prepared – Make sure any furniture is moved away from areas you want cleaned. Bigger items like beds and dressers we cannot help with and need to be moved ahead of time.
Open a Space for Us – We will be bringing a lot of equipment in, so allowing us to use the closest parking spot to your door will benefit us greatly.
Be Careful – We'll try and get the job done as quickly as possible, but while we are there, please use caution around our technicians and equipment.
Don't Be Shy – We hope you will share your every concern with us to assure the job is always done to your exact specifications.
You can also help prepare your home by trying to regulate the temperature to 70 degrees, if possible. Ceiling fans or area fans can also be turned on to help circulate the air in your home.
Most importantly, just be ready to be wowed at how great your carpet will look after ProDry Floor Care is done with it.
CARPETS DRY IN ONLY 1-2 HOURS
When you use less water, carpets simply dry faster. Instead of using gallons of water like typical steam cleaning, ProDry uses only a fraction of the water. This low-moisture process combined with our natural encapsulating cleaning solution penetrate deep into your carpets fibers and not only leaves carpets cleaner, but reduces dry times to a couple hours rather than a couple of days. So you and your family can get back to enjoying life in your cleaner, healthier home more quickly.
A DEEPER CARPET CLEANING
ProDry's goal is to help you spend less time worrying about whether your carpets and furniture are clean and safe and more time enjoying your family in a clean healthy home. ProDry uses a specially designed, green-certified cleaning solution that employs the magic of encapsulation to penetrate deep into your carpet, breaking up dirt and grime and lifting it to the surface, what isn't captured immediately is encapsulated and released from your carpets fibers to be vacuumed away on your next cleaning. We then follow up with state-of-the-art equipment using our unique process to pull the dirt and water from your carpet, leaving behind a truly deep-down clean. Steam cleaning and other carpet cleaners that use soapy water and chemicals often leave behind a sticky residue that can attract dirt, resulting in your carpets getting dirty again faster and requiring more frequent professional cleanings. Since it doesn't contain any soaps, detergents or harsh chemicals, ProDry's core cleaner, ENCAP-Extra, does not attract dirt so your carpets stay cleaner longer.
ECO-FRIENDLY PRODUCTS = A HEALTHIER HOME
At ProDry Floor Care we only use green-certified carpet cleaning products, including our primary cleaning solution ENCAP-Extra, Because of this we provide you and your family a healthier cleaning in two ways. First, our products are safe for your entire family and pets and second, the use of less water helps combat mold and mildew growth in and under your carpet.
Unlike our process, typical steam cleaning not only utilizes harsh soaps and chemicals to clean your carpets, but uses a heavy amount of water that often soaks through to the carpet backing, creating a breeding ground for mold, mildew and bacteria. ProDry uses an encapsulation process that will leave your carpets and upholstery cleaner and helps promote a healthier home for you and your family. Thanks to our low-moisture, encapsulating extraction system, we can offer you a deeper, healthier carpet and upholstery cleaning that you can feel confident is safe for your kids and pets. ProDry has been dedicated to helping families live more healthfully … because a clean home is a happy, healthy home. Choose ProDry for a healthier carpet and upholstery cleaning and a safer, refreshed home that the whole family can enjoy.